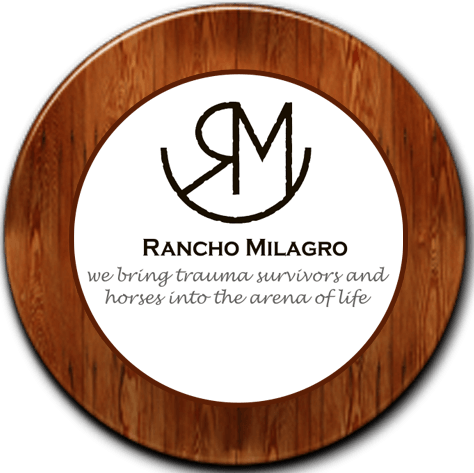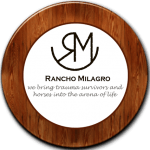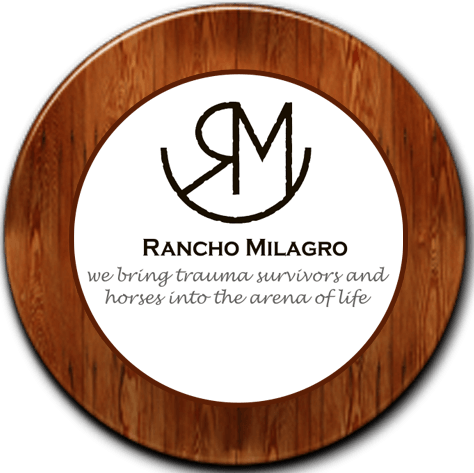 "WHERE MIRACLES HAPPEN EVERY DAY"
Rancho Milagro
(Translation: Ranch of Miracles)
A 501.C.3 accredited non-profit, faith-based ministry formulated to bring the miracle of Equine Coaching to trauma survivors.  We have extensive experience in bringing survivors of sexual or domestic abuse, depression, anxiety and veterans suffering from Post-Traumatic Stress Disorder (PTSD) to the "arena of life."  We also offer a place of rest and solitude for the wonderful and gifted Leaders who work with these survivors on a daily basis.
Rancho Milagro offers an organic equine program.
We provide many opportunities for individuals to achieve freedom from the daily triggers brought on by trauma that often weighs heavily on a person's soul.  Many of our clients have not benefited from traditional therapies–yet they often report almost immediate benefits when working with horses.  We believe in focusing on the WHOLE body.
Specifically, we offer Equine Coaching in various forms: lessons in horsemanship, nonverbal communication, caring for these sensitive and loving creatures, along with many other equine-based activities that bring a sense of wholeness to the senses and soul. We also offer a place of rest, gardening, and nutrition counseling.
We believe these activities help guide our clients not only to a better understanding of their triggers, but to a better understanding of themselves. We welcome clients to sit in the barn, journal, or get their hands dirty. We  provide a place of refuge, rest, and rejuvenation.  The goal is to bring peace of mind and healing for the soul.
"WE BRING TRAUMA SURVIVORS BACK INTO THE ARENA OF LIFE"
Every person has a story …
But not every story has found it's happily ever after. At Rancho Milagro, we understand feelings of pain, sorrow, anger, remorse, stress, and devastation. Unfortunately, today's world is a harsh reality. We strive to soften this reality by supporting each unique individual with open arms and a loving embrace. Everyone deserves a refuge from the feelings that are too overwhelming to bear alone.
This was the beginning of an awesome day at Rancho Milagro. So much happened! What was really amazing is how the horses and the dogs all worked together to accomplish the eternal effect. The Lord was using the animals to reveal His heart and His design for wholeness and renewal! What a wonderful concept.
I just wanted to thank your guys for what you did for my children yesterday. We already see the fruit of Milagro youth. Their hearts are lighter and there is more laughter and joy in our home. I feel less overwhelmed trying to raise a small army because I know I'm not doing it alone. The weight is definitely lighter after a weekend with you.
Growing up I was born into a very abusive family. At age of 6, I was being sexually abused by my father and by the age of 11 I was sex trafficked out of our home. When I first got to Rancho Milagro I was very scared had no confidence. Rancho Milagro has become my safe place where I can come be who I am and I know there will be open arms.